You managed to get your whole company using Office 365 — what an accomplishment!
Only you hadn't anticipated that your environment was going to get so messy. Users are now creating hundreds of Microsoft Teams, Office 365 Groups, and SharePoint sites, and you have no clue whether they're being used and relevant, or stale and taking up precious storage space. You want to clean up the mess, but don't know how.
Or perhaps you don't dare give users permission to create Office 365 Groups or subsites because you're worried that you'll lose visibility and control. Your users don't have the flexibility to create and use what they need, when they need it.
After speaking to our customers, we realized that these scenarios are all too common.
You need to be able to give users the freedom they need without compromising your control over your IT environment. That's why, at Sharegate, we've been thinking hard about the solution and spent the past months developing a feature that will help you do just that.
Introducing Automated Lifecycle Management
Available in the latest version of Sharegate (8.0) and onwards, Automated Lifecycle Management helps you make sure your self-service Office 365 environment stays clean, whether you've just migrated or you've been there for a while.
The feature automatically flags any stale assets to their owners, who will validate whether they still need them or not. Then you can decide whether to keep or delete them based on your users' needs. 
This means that IT admins will no longer have to chase owners for validation, saving time and unnecessary hassle. As for users, they can create all the content they need, without clogging up the system, and they will find what they're looking for more quickly as the search function will only display relevant results.
How does it work?
Make Sure Every Site and Group Has an Owner
It's important that your SharePoint Sites and Office 365 Groups have an owner so that there will always be someone who knows whether these assets are in use or not.
Sharegate scans your environment so you can see which sites are missing Owners or Administrators, based on your policies. Then quickly add a user as an Owner or Administrator to make sure there's always someone in charge.
Get a List of Your Unused Sites and Groups
Sharegate leverages usage information, modification dates, and some Sharegate magic, to scan your environment for any potentially unused sites or Office 365 Groups.
We even verify tools in Office 365 Groups, like SharePoint, Email, Calendar, and Planner, to be certain there's no activity.
Know What to Remove and What to Keep
Take action on unused SharePoint Sites and Office 365 Groups right from the Sharegate app. Download a copy of the content and delete the unused objects with the click of a button.
In Office 365, you will only see unused sites once you receive confirmation from an Owner that the site is really no longer useful.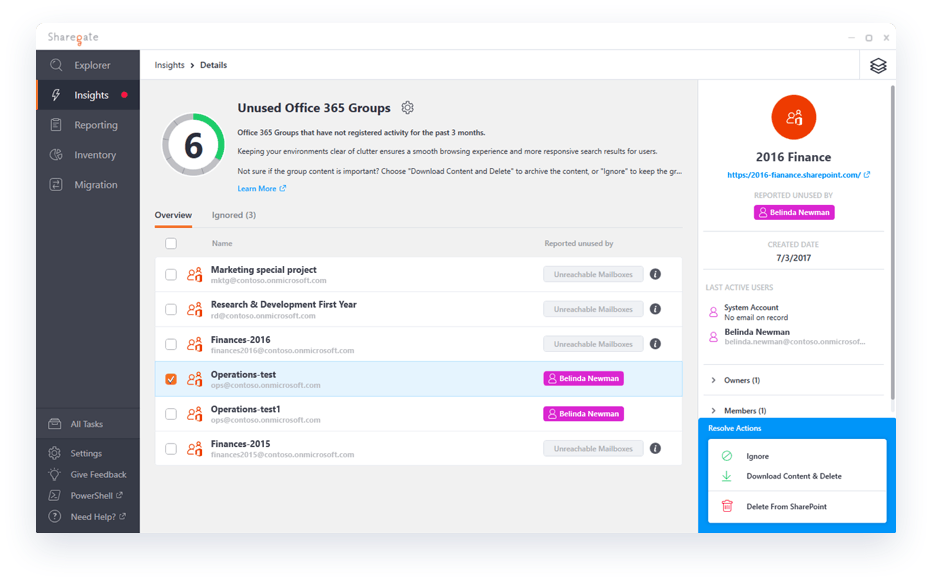 Then, you can confidently take action on these sites, knowing Sharegate has done the hard work for you.