Migrate Your Business to Office 365
Sharegate helps you make the move to Office 365 up to 10 times faster, no matter the size and complexity of your migration project.
Sharegate Makes It Work
Easily migrate your existing content to Office 365: structure, content, users, permissions and more. We support:
SharePoint 2003
SharePoint 2007
SharePoint 2010
SharePoint 2013
SharePoint 2016
SharePoint Online
Office 365
OneDrive for Business
File Shares
Google Drive
Nintex
Box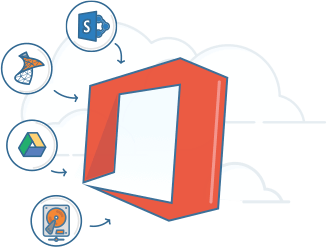 Get Started Now
We burned a lot of time fighting with a manual approach before giving Sharegate a try. The tool was easy to use. Without Sharegate, we could not have completed our migration from SharePoint 2013 to Office 365.
Ross Lamb, Systems Administrator
Protegra
Office 365 Migration in 4 Steps
With Sharegate, you can plan a seamless Office 365 migration, make the move to the cloud, and ensure your users get the most out of the platform.
Plan Your Migration
The Inventory feature helps you estimate the time and effort required for a smooth migration. Identify what needs to be migrated and what should be left behind.
The Inventory feature lets you:
List everything in your source file share or SharePoint environment
Find all potential errors and validated rules in advance
Estimate the time required for a migration from file shares
Migrate to Office 365
Use Sharegate's migration tool to move your content to Office 365 at insane speeds and benefit from everything the cloud has to offer. Ensure your new environment is ready for your users right away, by easily mapping all your content and structure to its right place. Although Sharegate doesn't handle Microsoft Exchange migrations, you'll find the answers you need on the subject in the FAQ section below.
The migration tool allows you to:
Perform unlimited full environment, or granular migrations
Restructure site collections, sites, lists, libraries, and more to the new Office 365 architecture
Map users, permissions, site templates and more
Get a post-migration report
Manage After the Migration
Use Sharegate to manage and keep control of everything that's happening in your Office 365. Simplify your daily administration so your users can use, create, find and collaborate optimally in the platform.
Sharegate lets you:
Schedule tasks and reports : edit permissions, find external users, clean limited access and more
Edit metadata and check-in documents in bulk
Manage all Office 365 groups
Take action directly on report results
Exclusive to Sharegate Online
Monitor External Sharing
Sharegate Online helps you understand what is shared outside of your organization so you can let your users, and your business, benefit from the power of Office 365's External Sharing capabilities.
Sharegate Online lets you:
Know what is shared externally: documents, lists, libraries, sites, OneDrive for Business, Office 365 Groups and more
Understand what's happening in your tenant thanks to a user activity feed and instant alerts
Frequently Asked Questions
How is an Office 365 migration performed?

Generally, the two biggest parts of an Office 365 migration are: moving content to your new cloud environment and migrating your mailbox to your new host.

You'll want to start with migrating your business content from file shares, earlier versions of SharePoint, Box, or Google Drive to OneDrive for Business and/or SharePoint Online.

Next, you can migrate your company's mailbox to Exchange Online in Office 365 from systems such as existing Exchange Servers, or other mailboxes systems like Google Mail, IMB Notes, etc.

How will Sharegate help me migrate my content to Office 365?

Using a tool such as Sharegate, you can plan and estimate the effort needed to migrate your business content, and map it to your new cloud destination. Migrate all your current SharePoint or File Share structure, permissions, workflows, configurations, metadata and more, without limit.

You'll also be able to keep managing it on a daily basis to ensure your environment is constantly secure and functional. For more information on Sharegate's features, read our detailed feature page.

Can I use Sharegate to migrate my mailboxes to Exchange Online?

Sharegate is built for content migrations and will help you move your documents, files, site collections, libraries, permissions, etc, to Office 365. Our tool does not support mailbox migrations to Exchange Online.

There are many different ways in which you can migrate your mailbox to Office 365, depending on whether you're coming from an existing Exchange Server or a source environment that supports IMAP (such as Gmail, IMB Notes, etc). For a complete guide to mailbox migration, check out this resource.
10,000+ Leading Brands Trust Sharegate Every Day